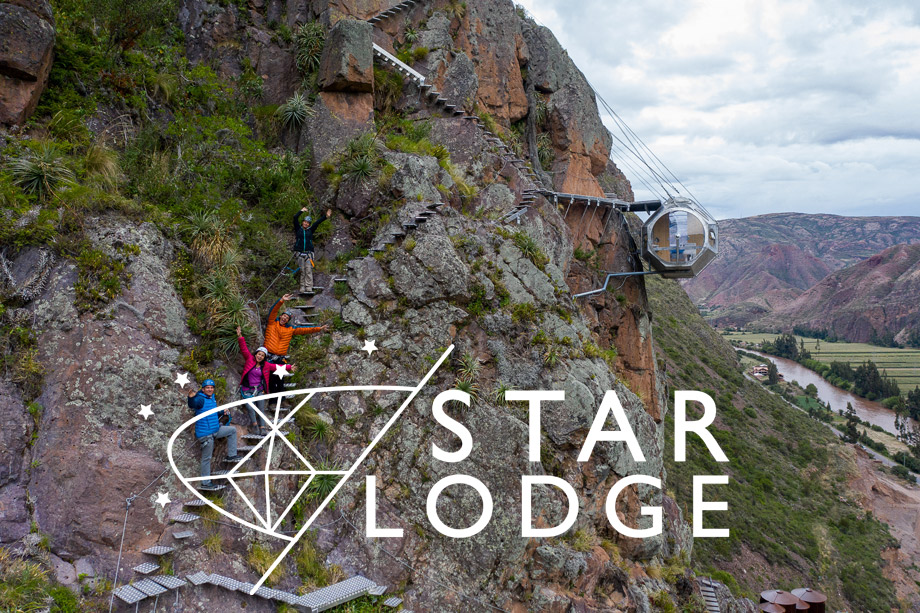 Located an hour a half away from Cusco city; Starlodge Adventure Suites brings the opportunity to spend a night in a hanging pod at 2900 meters above sea level, enjoying the comfort of Starlodge pods's new design with one of the best views of Inca's Sacred Valley.
Natura Vive continues to innovate the mountain experience with the high tubs concept. You will have the opportunity to enjoy an open-air bath inside an Onsen-type wooden tub with hot water -at the right temperature- surrounded by the splendid view of the Sacred Valley, illuminated by the Milky Way and Inca's Empire constellations lighten. Once in a lifetime experience, you can not miss.
Our own transportation (shared with other guests) will drive you to the Starlodge base platform at 9433 ft. over sea level; located aside the main road from Urubamba to Ollantaytambo. From there, you will start an easy walk to the pod of your choice. Walking up the mountain through our system of steps -created for those who prefer comfort and enjoy some drops of adrenaline rush climbing a mountain at the same time.
We found this is the most innovating, comfortable and safety way to climb a mountain, attached to a lifeline to give the safety main goal of all our services. A Tibetan bridge will allow the access from the spa to the capsules, each one is located at a higher altitude than the previous one, all of them with a unique view over the Sacred Valley.
The given names of each pod are based in the constellations of Inca's astronomy. This is our humble invitation to connect you with Inca's ancestors and their mystic culture.
Southern Cross- Pod No. 1 (9521 ft.)
Baby Llama – Pod No. 2 (9580 ft.)
The Sheperd- Pod No. 3 (9613 ft.)
The Fox Pod No. 4 (9646 ft.)
The condor- Pod No. 5 (9685 ft)
Orion- Pod No. 6 (9718 ft.)
Starlodge max. capacity: 24 people
Pod max. capacity: 4 people
Accommodation could be arranged for queen bed and/or 2 single beds or 4 single beds.
Our guest's experience and privacy is our priority, so, if you are a solo-traveler you don't need to pay for the whole pod. Our rates are per person. You just need to book in advanced.
Minimum age to stay at Starlodge is 12 years.
| | |
| --- | --- |
| ACTIVITY | Price per person S/. (Soles) |
| STARLODGE SUITES (01 night at Starlodge) | S/1,575.00 |
| STARLODGE 01 (Zipline + 01 night at Starlodge) | S/1,755.00 |
| STARLODGE 02 (Via Ferrata + 01 night at Starlodge) | S/1,755.00 |
| STARLODGE 03 (Via Ferrata + Zipline + 01 night at Starlodge) | S/1,850.00 |
Itinerary
If you want to combine your stay at Starlodge with our day activities (Via Ferrata or Ziplining), you can do it in the afternoon of DAY 1 or in the morning of DAY 2
DAY 1
14:00 – 14:30 pm Hotel pick up in Cusco City
15:45 – 16:00 pm Arrival to Sacred Valley
16:00 – 16:30 pm Safety talk and equipment. Briefing on how to use the lodge facilities.
16:30 – 17:00 pm Ascent to your pod
17:00 – 20:00 pm Hot tub time!
20:30 pm Dinner in our glamping dining room at the base
DAY 2
Depending on the passenger's itinerary for this day, the wake-up and breakfast called could be reprogrammed.
6:00 am- 9:30 am Second chance for a hot tub experience, don't miss it!
9.30 am – 11:00am Breakfast in our glamping dining room at the base
11:30 am – 13:00 pm Drop off ride to Cusco city or Sacred Valley.